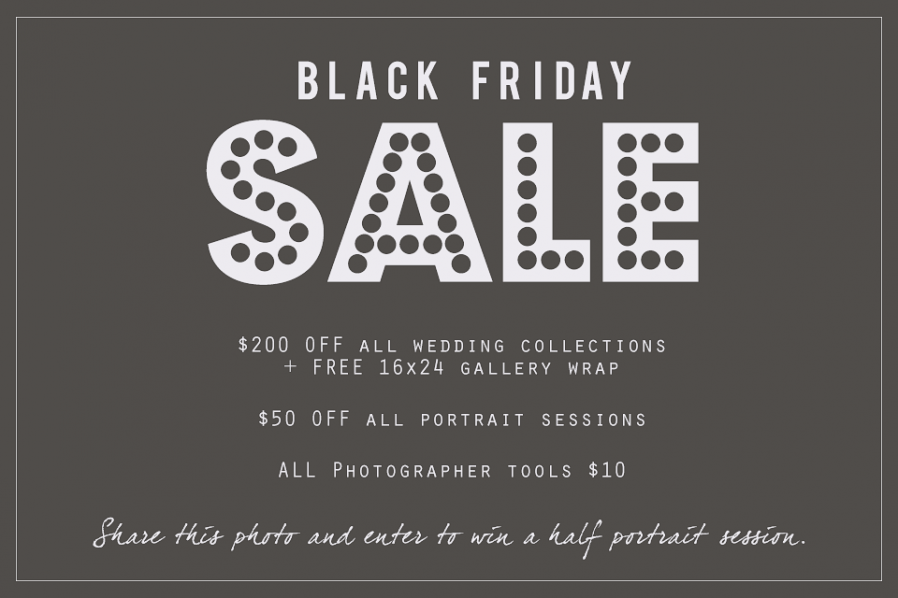 We are doing some awesome things for Black Friday!
Where do we begin?!
• All new brides who book an ABP Wedding Collection -between NOW and DEC 2nd (10pm)-
receive $200 OFF all ABP Wedding Collections &  get a BONUS 16×24 Gallery Wrap.
• All clients who book a ABP Portrait session receive $50 OFF -between NOW and DEC 2nd (10pm)-.
• ALL Photographer Tools in the ABP Shop are now $10 and available for a limited time.
This Sale will run until -Dec 15th- and then all Photographer Tools will be retired.
( http://amandaberubephotography.bigcartel.com/)
On top of ALL this awesomeness,  anyone from the Columbus GA area who shares our Facebook Fan Page post with this picture will be entered into a drawing for a FREE Half Portrait Session for 2014. ..For an extra entry, comment on this blog post!
To book or for more information, contact us via the "To Book" tab above or email us at Amanda@AmandaBerube.com

*Black Friday sales do not apply to Wedding Collections or Sessions already booked.
*Must book Wedding Collections or Portrait Sessions between NOW and DEC 2nd (10pm) to receive these promotions.
*To win the FREE Half Portrait Session, you must live in the Columbus Ga area and have shared the Facebook Fan Page post, publicly. Sessions will be booked for next ABP's next available time in 2014.